Von Ward Kennels' AKC German Shepherd Puppies For Sale in San Diego, California
We test for hips, elbows, DM and DNA Welcome to Von Ward German shepherd kennels' puppies for sale page. Litters soon available are listed below. Approximately 10% of litters are not successful for many various reasons. By placing a deposit on a litter not yet born, please keep this in mind and be willing to move your deposit onto another litter at a later date.
Von Ward Kennels' Sires and Dams in Our Breeding Stock
Sires: Braven     |   Unkas     Dams:   Carmon   |   Jetta   |    Maggie   |   Nitta   |   Reina  |   Xurri   |   Noor   |    Sudona    |    Laya
New Policy Starting March 2014 NO puppy visits until puppies are 7 weeks old. New strains of the Parvo Virus are abundant and it is my job to keep puppies safe. I used to use a high titer Parvo Vaccine at 4 weeks and this has proven to no longer protect all puppies. So please understand as much as you would like to visit with your puppies as they grow I can no longer allow this until they are 7 weeks.  I will send out emails with pictures or videos weekly. No outside dogs are allowed at anytime. Thank you for understanding how important it is for me to keep the puppies safe.
We ENCOURAGE you to visit other breeders so you have an informed opinion and we have no doubt you will be thoroughly impressed when you visit our kennels. If you do visit other breeders, please do so on a different day that you visit.
Unkas and Jetta
Unkas and Jetta had 4 puppies October 5. 2 males and 2 females. Puppies will be ready approximately November 23rd. These are pure Czechoslovakian bred dogs. Both parents are imports and their is no line breeding! It is nearly impossible to find Czech dogs with no line breeding. Below is a picture of a male puppy from their first litter. He weighed 100lbs at 1 year and he was a skinny teenager! On our dams page, scroll down to Noor to see a daughter from these parents. These puppies are $1800 with limited registration for both sexes. Add $500 for breeding rights. 619-987-8923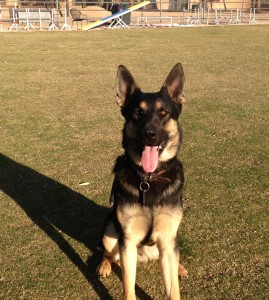 Male 1) Deposit K.P.                                                        Female 1) Breeder
Male 2.)Deposit Z.S.                                                        Female 2.) Deposit W.E.
Unkas and Laya
Unkas and Laya are expecting a litter approximately November 7. Puppies will be ready to go home approximately Dec.27. Christmas puppies! These will be our largest dogs ever. Adults will be oversized to GIANT dogs with weights ranging from 100-135lbs! Some will be low drive like mom, some high drive like dad and some will have varied drives. All will be outgoing and friendly. All dogs are $2000.00 with limited registration. For breeding rights add $500.
Male 1) Deposit-E.N.                                                         Female 1) breeder
Male 2) open                                                                      Female 2) open
Unkas and Reina
Unkas and Reina are expecting a litter approximately December 3. Puppies will be ready to go home approx. Jan. 24, 2015. These will be oversized dogs ranging between 95-110lbs. None will be as dark as mom. Mostly black and tan saddle backs and some full blankets. Males are $1400 and females $1200. Add $500 for breeding rights.
Male 1) deposit- W.J.                                                     Female 1)open
Male 2) open                                                                  Female 2)open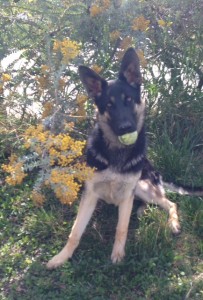 This is a previous puppy from these parents and what their puppies will look like.
Our deposit is $300. We charge an additional $10 to cover our costs via PayPal. We take deposits seriously and puppies are not an impulse buy. Deposits are non-refundable but can be moved onto another litter. We are now able to take credit cards in person or through pay pal online.