---
Von Ward Kennels German Shepherd Puppies For Sale in San Diego, California

We test for hips, elbows, DM and DNA
Please scroll down to see our puppies and upcoming litters for sale
Von Ward Kennels' Sires and Dams in Our Breeding Stock
Sires: Braven     |   Unkas      |     Colt    |
Dams:   Carmon   |   Jetta   |    Maggie   |   Nitta   |   Reina  |   Xurri   |   Noor   |    Sudona    |    Laya
---
Female deposits full One male available
Braven and Maggie had a litter of 7 puppies on December 23. Puppies ready to go home Feb.14; Valentines Day! Three males and four females. Two males are bicolor (like dad) one is solid black. Two females are solid black, one is bicolor (like dad) and one is dark black and tan (like mom). Most dogs will be at the high end of standard for size and some a little larger. The last male is $1000 with limited registration. For breeding rights ad $500. Call Stephanie at 619-987-8923
Female 1)deposit-S.C.                               Male 1)deposit-C.R.
Female 2)deposit-S.G.                               Male 2)Deposit-A.&M.H.
Female 3)deposit-M.A.                               Male 3)open
Female 4)deposit-A.L.
Below is one of Maggie's puppies from her last litter and what the upcoming litter will look like.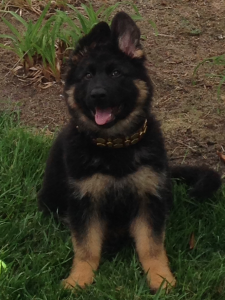 ---
Unkas and Nitta had a litter of 12 puppies Jan.5. Puppies ready to go home Feb. 28. There are 5 males and 7 females. These will be varying degrees of black and tans. Dads color is more dominant so more will be his color and some a little darker. None will be as dark as mom. Females will be between 80-95lbs and males 95-110lbs. Males are $1400 and females $1000.
Female 1)Backup deposit- A.L.               Male 1) deposit-JP
Female 2)open                                                  Male 2) open
Female 3)open                                                  Male 3)open
Female 4)open                                                  Male 4)open
Female 5)open                                                  Male 5)open
Female 6)open
Female 7)open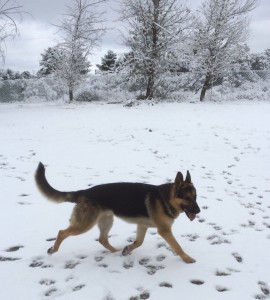 Male puppy from these parents at 1 1/2 years.
---
Our deposit is $300. We charge an additional $10 to cover our costs via PayPal. We take deposits seriously and puppies are not an impulse buy. Deposits are non-refundable but can be moved onto another litter. We are now able to take credit cards in person or through pay pal online.
Approximately 10% of litters are not successful for many various reasons. By placing a deposit on a litter not yet born, please keep this in mind and be willing to move your deposit onto another litter at a later date.