Technology is changing and many people prefer to add testimonials to my Facebook page. So to see more, check out my Facebook Von Ward Kennels page.
---
Titan and Dyana Male Shown here at 1 year 6 months and 101lbs.
From his owner:
My girlfriend and I came and picked up Zeus in March of last year making Zeus about a year and a half. I just wanted to send you some updated pictures of him as an almost mature German Shepherd. Just some playing in our back yard and one from his last vet visit. I also wanted to thank you for what you do and for bringing me the best dog and my best friend. Zeus has been such a joy to us and I couldn't imagine not having him. He is big and protects the house yet very good with children and not aggressive at all based on my body language. He is the perfect combination of German Shepherd.
---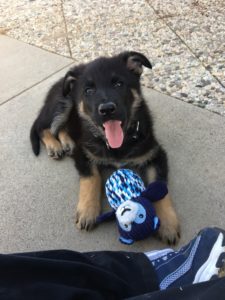 Titan and Noor male
I just wanted to update you on how Solomon is doing. He is almost 40lbs already at 14 weeks!
He is very smart and knows quite a few commands. He picks them up right away. He has sit, stand, down, settle, go to bed, look, stay, and he even potties on command. He's been potty trained for a long while now. It was four days before he had his first accident inside and only had a few accidents total. We've been to puppy kindergarten 5 times. I a few weeks we'll start a S.T.A.R. puppy class.
He is super loyal. In puppy kindergarten when the other puppies are running around like crazy, he just follows me as I walk around and sits or lays down next to me when I stop moving. That's perfect for a service dog prospect. I put him on a 50′ leash when we're outside but he doesn't need it.
He loves the pool! I am going to take him to the beach soon and I bet he'll love that too. He didn't like the car at first but he's a pro now. He sits up and watches the world go by. Its adorable.
He's super vocal he talks all the time. I love his noises.
I have attached my favorite picture of him. It was the day we took him home. I will send more in the future.
---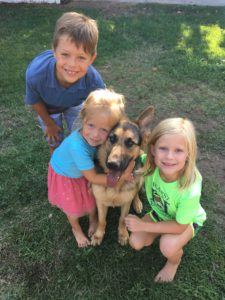 Sudona and Titan female
Good evening Stephanie
Yesterday was the first birthday for last years 7/24 litter which included our sweet Sammy. We just adore her!! She is loving and naturally protective over all of us but especially our three kids. she is smart and learns very quickly and could play with her ball for hours on end. We get compliments from strangers everywhere we go as to how beautiful and well behaved she is. I thought you may want an update on how she is doing…very well as you can see!
---