Hip and Elbow Dysplasia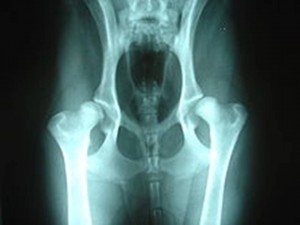 Von Ward German Shepherd Dog Kennels strives to breed dogs that will produce puppies free of hip and elbow dysplasia. As an experienced pet owner and breeder of German Shepherds, I have learned a great deal about hip and elbow dysplasia.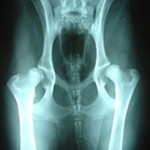 At right is an X-Ray of an animal with hip dysplasia, and just below, a picture of an animal without dysplasia. German shepherd dogs are not born with hip dysplasia. Xrays taken of newborn or nearly newborn show no abnormalities in hips or elbows. Problems can arise from a number of factors; genetically predisposed, being overweight, accidents, poor diet, being raised on slippery surfaces, over use of growing joints (forced exercise). Hip dysplasia is a genetic or environmental disorder that effects many large breeds, including German Shepherds.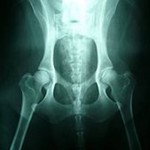 It is very common in the back yard bred German Shepherd and in some very well bred dogs. When we at Von Ward Kennels purchase a GSD, we seek dogs that are OFA or Penn hip certified or certified through their country of origin. (unless it is Germanys lowest acceptable rating which is equivalent to our OFA borderline) I would not breed a dog with borderline hips. The dog must have good elbows and hips and his or her parents must be certified. The more dogs with good hips and elbows in the pedigree or lineage, the better.
What is OFA certification?
An OFA certificate is a document obtained from the Orthopedic Foundation for Animals that rates dog's hips and elbows. A breeder or owner takes a dog that is 2 years or older to the vet to have x-rays to examine hips and elbows. Not all veterinarians can do this, and some are more skilled than others at getting good x-rays. Along with the x-rays, proper documents provided by the OFA website are given to the veterinarian and sent in with the x-rays. The owner does not know the results until it is mailed back from the OFA. This costs the owner about $450.00 depending on the vet and the state. The return of those documents takes about a month. If the results show the dog is dysplastic, it should not be bred. This could be a dog that the breeder paid thousands of dollars for only to find out terrible news. The results of fair to excellent are all good for breeding and certifies the dog with an OFA certificate. OFA will not certify a dog under 2 years, however, a preliminary can be done before 2 years of age to set the breeder's mind at ease. A young dog with a preliminary of fair or better has a 97% chance of being good or excellent at 2 years of age. Many breeders in the US feel it is therefore safe to breed a dog if it has a preliminary rating only, especially since some other countries certify hips at 1 year. Plus Germanys ratings are inferior to OFA and Penn hip because Germany allows for borderline dogs (according to US standards) to still be suitable for breeding. So it is important to look at pedigrees of imported dogs from Germany. Just because it is acceptable by their standards does not mean it is acceptable in the US.
Other Hip Dysplasia Registries—An Approximation
| OFA | FCI (European) | BVA (UK/Australia) | SV (Germany) |
| --- | --- | --- | --- |
| Excellent | A-1 | 0-4 (no > 3/hip) | Normal |
| Good | A-2 | 5-10 (no > 6/hip) | Normal |
| Fair | B-1 | 11-18 | Normal |
| Borderline | B-2 | 19-25 | Fast Normal |
| Mild | C | 26-35 | Noch Zugelassen |
| Moderate | D | 36-50 | Mittlere |
| Severe | E | 51-106 | Schwere |
If you look at the chart, you can clearly see that Germanys Fast Normal is the US standard of borderline. Borderline in the US is considered unsatisfactory for breeding and it is finalized at 2 years old. Germany however, breeds dogs with Fast Normal and the grade is given at 1 year!
Penn hip is another acceptable way of evaluating hips. One of their faults in my opinion is that they do not do elbows. And then another issue I am still trying to figure out is that Penn Hip accepts dogs as young as 4 months and will give a permanent score to a dog at 4 months!  So if a puppy passes Penn Hip at 4 months it is considered breed worthy for hips but if that same dog were in Germany, it could not be scored until 1 year and then if it were evaluated by OFA it could not be certified until 2 years. But yet any three of these grading systems is deemed acceptable. Strangely interesting; right? Penn hip does expect to include elbow ratings in the near future which will be great for those that do not completely trust OFA.
When seeking a large dog from a breeder, do not hesitate to ask for their hip and elbow certification and/or a hip guarantee, like ours. If they do not provide one or both of these, do not buy that dog! Dogs suffering from severe dysplasia will have terrible pain, and breeders who do not make an effort to avoid dysplasia in their breeding stock are only making the problem worse. Puppies with severe dysplasia often times cannot walk on their back legs and show obvious pain. The surgery for this is approximately $3000.00 depending on where you are and how bad the hips are. I have heard of hipsurgery costing upwards of $7000.00! Now how do you feel about saving money by buying that $150.00 German Shepherd? It pays to pay a little more for a puppy from a good breeder.
Unfortunately, a dog from a good breeder can still develop hip and/or elbow dysplasia. The breeder can do everything in their power to prevent hip dysplasia and still have it develop in some puppies. The OFA website states that 2% of German Shepherds will have Hip dysplasia and another 2% will have elbow dysplasia. Buying from a reputable breeder greatly lessens your chances of having a dysplastic puppy. Plus, most back yard breeders are not going to care when you call them and tell them the puppy you bought from them has dysplasia. Most reputable breeders will offer you another puppy.
If a breeder has had 20 or more litters and tells you they have never had dysplasia of any kind, whether it be elbow or hip, I would be hesitant to buy from them. All breeders are going to have to deal with this popping up in one of their puppies at some point. A dishonest breeder is not one you would want to buy from.
Most breeders will not openly tell you how many of their puppies have had dysplasia but if you ask them, they should be honest. As of August of 2014, Von Ward Kennels has less than 1% hip dysplasia and 2% elbow dysplasia. So we are lower than acceptable OFA statistics for hips and even with elbows. I truly believe our numbers are so great not just because of bloodlines but from the diet we start our puppies on.
Click HERE to read a very recent article about new research on dysplasia. Note: it says hip dysplasia but this article can be used interchangeably for hips and elbows.