Von Ward Kennels' Breeding Philosophy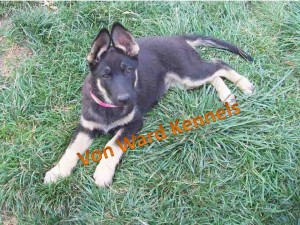 We breed for high quality German shepherd puppies with the following criteria in mind:
Health and Longevity, with excellent hips
Stable Temperament, able to work or be a pet equally well
Large, Intimidating Size
Appearance
AKC Registered, Pedigrees, etc
As you can see, our philosophy focuses on the overall puppy we produce, not his papers. We want to provide our buyers with a large and very intelligent watch dog that is well rounded and able to relax and enjoy his Master's company. Our German shepherd puppies for sale have plenty of drive when there is work to be done, but they are not high strung.
Pedigree indicates what the animal should be. Conformation indicates what the animal appears to be. But performance indicates what the animal actually is. – Author Unknown

---
Von Ward Kennels German Shepherd Breeding Philosophy
by Stephanie Ward, published January, 2009 most recently edited 2/19/2013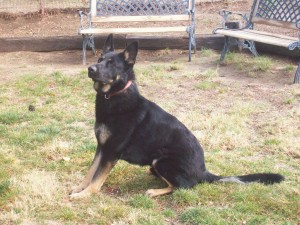 Here at Von Ward Kennels we produce dogs that will go jogging with you, protect you and your family, lay at your feet when you are relaxing, and obey your every command. Our dogs are highly intelligent, bold, brave, healthy and stunning to look at. We seek out breeding stock with a straighter back and excellent hips that will protect its people with its life. Our dogs are not show dogs, as we do not agree with several of the AKC breed standards. We breed our dogs to exceed weight restrictions along with other disqualifying traits which we consider superior to breed standards. The following video demonstrates why we do not breed dogs for the AKC Show Ring.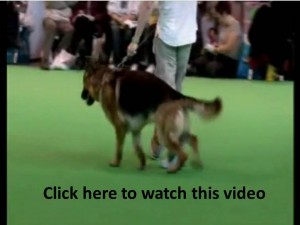 Read on to discover why we do not breed for the AKC show ring. This article written by Frank Thadeusz about Wayne Curry, a very experienced German Shepherd Breeder who shares many of our viewpoints.
Below is a link to a German showline Kennel located outside the US. I do not want to state the name of the kennels you can figure that out if you research. What I am trying to relay is the fact that just because a dog is an import and from winning Shutzhund (IPO) dogs, does not mean the dog is worthy. This video shows what many German Showline breeders are doing to our regal breed. Hit the pause as the dog moves to get full view of the extremes. Be prepared to be shocked.
http://www.youtube.com/watch?feature=player_embedded&v=T1LjkGP091g
We want to know we are selling a German shepherd puppy that will grow up to be the best dog you could ever have; a dog you love so much that it is truly a member of your family. We strive for a GSD that does not require a constant job but will work proudly and efficiently when needed. We do not want a dog that must be worked everyday for hours or else will chew, dig and bark himself to sleep. Buyers seeking excessively high-drive German shepherds should search for a different German Shepherd dog breeder. We do not breed for that type of shepherd at Von Ward Kennels. Our GSD's have been purchased by police officers, search and rescue, and families who want a stable-minded German shepherd dog.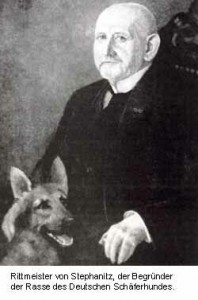 In the official land of German Shepherds, there is a mix of opinions in what the perfect German Shepherd Dog's temperament should be. There are some great breeders out there but of course, some poor ones as well. If you look at how the breed was first started by Max Von Stephanitz, you will see how Von Ward Kennels believes the breed is supposed to be. We are striving to produce what we believe Stephanitz wanted, because this is what makes sense for this particular breed. To see more about Stephanitz's original ideals, check out NSGSDC. There are German Shepherds today that are a far cry from the original. To see another breeder's site who has a similar opinion to ours, go to Royal Air.
The American show shepherd is a dog bred for appearance. Many (but not all) breeders of this show dog could care less about the dog's mental stability. Most American show shepherds have so many health and behavior problems that we believe they do not make the best family pets. They can be fearful of children, and skittish and intolerable of new surroundings. Their backs have become so angulated that their back legs stick out behind them. Their hind legs wobble when they move and their hocks actually touch each other. This is what an American German Shepherd show judge likes! If you look one of these dogs straight in the face the body is very narrow. Here at Von Ward Kennels, we feel the American German Shepherd Show Dog lacks substance. We have bred an American show dog in the past with great success, but we crossed her with a quality stud that had different types of shepherds in his pedigree.
Most of the German show dogs are even worse. Their backs arch upwards (very severely in some cases) and then drop back down towards the ground. This is called roaching. The picture below and to the left is an example of extreme roaching: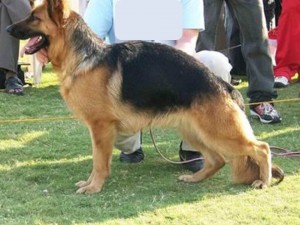 At right is another example of a dog with roaching that has won several shows. German shepherd show dog with roach back It gives the dog an appearance of deformity, which is what you will see in some of the VA lines. We are proud to say that we will never breed a dog with a severely roached back. We have seen some V rated dogs that have only a slight roaching to the back. These dogs can make good family pets but may lack the drive for real working ability. These dogs also have hocks that touch and sometimes knock together when they move. The bottom line is, we believe that German and American show shepherd breeders have simply lost sight of Stephanitz's most important criteria which are working ability, health, longevity, and capability to live and function with families. We will breed a German show dog if it has little to no roaching and only if it has enough drive.
There is another line of German Shepherds called the German Working dog. These dogs can be a handful and are not for everyone. They are gorgeous in appearance with a broad head, intense eyes, strong bodies with straighter backs and look more like the original German Shepherd Dog. What they can be lacking from the original GSD is the ability to work well in a family or suburban home. Most of these dogs are simply too high energy. A common problem that is becoming more and more prominent is females lacking the mothering instinct. Some are so high drive that they may not want to lay down with their pups and nurse and some of them actually eat their own puppies! We will breed a working line shepherd only after we evaluate the dog's drive and determine it is appropriate for families.
Von Ward Kennels seeks out AKC registered German Shepherds dogs for their health, good hips and sound minds. We realize that a high drive dog might not be the best fit in suburbia where most of our buyers live. We breed for dogs that will do well in households with a medium/high drive and the ability to relax and enjoy his surroundings. We seek to produce dogs that will live the longest, healthiest lives, with no hip dysplasia, and with intelligent minds. After we have met our main criteria, then we look at the overall appearance of the dog. Only dogs who meet all our criteria are entered into our breeding stock. These dogs have American and German lines that have been combined to make the German Shepherd as close to perfect as we can find.
This is the way VA GSD's looked in the beginning. This is what we are trying to produce.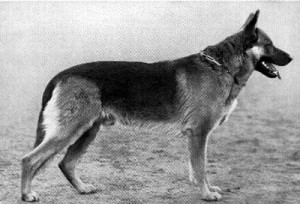 VA1 Utz vom Haus Schütting
A great looking German Shepherd Dog
SCHH3, ZPR Kkl 1
Sire Born : 12. March 1926
Linebreeding – 5 generations
Date: January 1929
Read more about our breeding philosophy including our view on Breeding Frequency and Hock Walkers.
This is my own personally written poem. Feel free to share but please give credit to me.
Why I do what I do
I do what I do not just for you
I do what I do so others have a clue
I do what I do for the love of the breed…
I do what I do so All will take heed
That this noble, regal and loyal dog has recently been made to look like a frog
His forward and strong nature that once was norm
Has now been turned into a dog deformed
His courage and strength are being replaced
With fear and weakness that is bred in haste
I do not breed to win at show
Because for me that would be sinking low
I want a dog that can move with ease and not be threatened with dysplastic disease
To do this I have to face many critics Who enjoy stabbing me with their analytics
But I will continue my plight to better my breed
For this is my calling from God indeed
This mission of mine may seem meager
But I am ready and eager
I do what I do to my best to determine
This dog they call the herding German
Author
"Me"
Stephanie Ward