Testimonials
2009 | 2010 | 2011 | 2012 | 2013 | 2014 | 2015 | 2016 |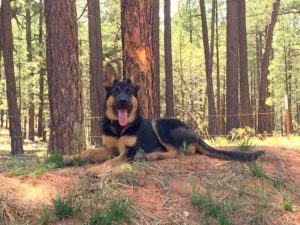 Young female from Titan and Dyana
---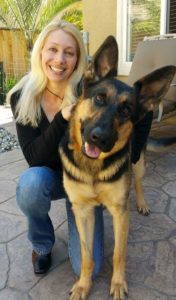 Stephanie
Lexi is thriving and the whole family has learned to bow to all of her needs. She is just wonderful.
Owner: Michele Yvette Oster
This is a female from our stud Unkas and retired female Jetta. She is also a full sister to our female Noor.
---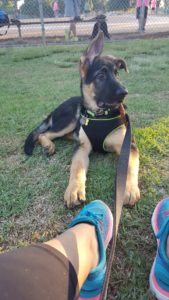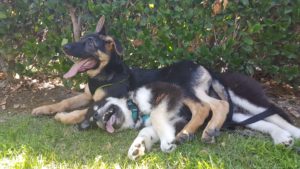 Hi Stephanie!
We brought home one of your pups on July 2nd and I am just absolutely in love with him! He is so sweet, very smart, and an all-around good dog! Santino (I think he was puppy #1? He was the biggest pup that you called a "tank") loves going for runs with me outside, going for rides in the Jeep with the top down and snuggling in my bed. My best friend actually has a Malamute puppy the same age, and they absolutely LOVE playing together. He is also doing VERY well in his training classes with me and starts more advanced training next month. Thank you so much again, I love my little (huge) man!
Alyssa
This is a male pup from Titan and Sudona
---
Von Wards Chieftan From his owner:
Chief at 6 months. Son of Braven and Noor. The moment you know you have chosen the right breeder for your German Shepherd puppy is when you're at obedience class and a woman you have never seen before comes up to you and says, "That is a beautiful German Shepherd, He has really nice markings. He must've been the pick of the litter. " I said no ma'am, he was the very last one. Thank you Stephanie for not taking shortcuts and being passionate about your German Shepherds.
And then an update from Same owner:
Von Wards Chieftan graduated from obedience level 2 today!
---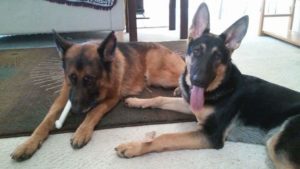 Sudona and Braven female
My Frida (with big brother Herman, a rescue) from Braven and Sudona litter born 10.30.15…
trainer tells me she's a "buddha' dog because she calms the crazy dogs but can draw out the shy ones.
---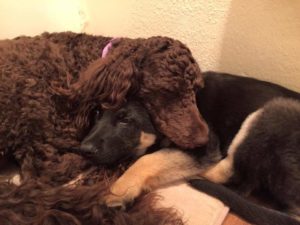 Unkas and Carmen female
Lucy and Sadie love being sisters. Sadie does such a good job "taking care" of Lucy cleaning her face and ears and showing her how to play.
---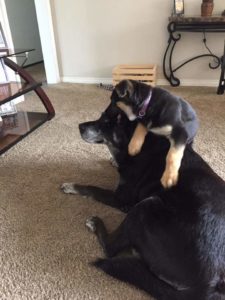 Female puppy from Unkas and Carmen
My 12 year old Jake, being so patient with my little Ella. Thank you so much Stephanie Ward she has been nothing but joy and such a beautiful addition , not only for me but the grandkids too.
---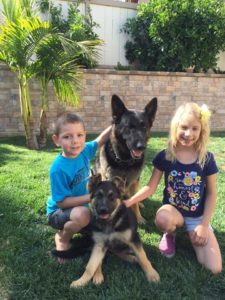 Thank you Stephanie for our sweet Dixie! She is perfect for our family!
Our 2 Von Ward Shepherds:
Winchester 4 1/2 from Braven and Tessa
Dixie 11 weeks from Unkas and Maggie
---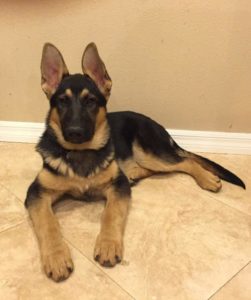 From Sudona and Braven litter! Meet Zoey at 4 and a half months. She completes our family Thank you
---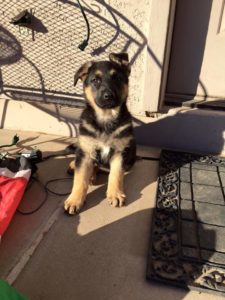 Male puppy from Braven and Noor
Ranger is loving his new home and hanging out with his momma on this beautiful Sunday morning. Thank you for such a wonderful experience, Stephanie! We are totally in love with our Range!
---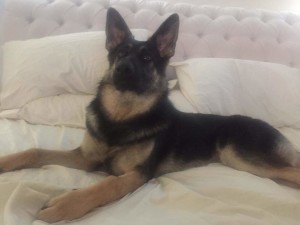 Xena female from Maggie and (now)retired stud Braven
From her owners:
Xena was the last pick of the litter and she is the best Shepherd we could have asked for. We are so happy she is in our lives.
---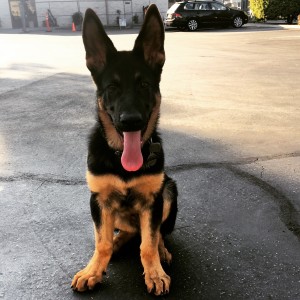 Flex; male puppy from Sudona and retired stud Braven
Hello Stephanie
Flex is an amazing dog and he has completely changed my life. He is smart and beautiful. I can not imagine a day without him and thank you for that.
Please make sure to preserve his blood line because I will be back in a year or two for a sister but directly connected to his blood line.
Thank you kindly
Flo
---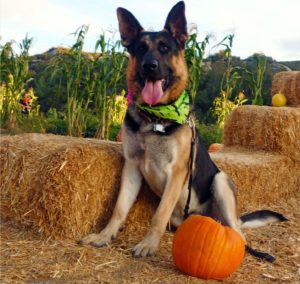 Unkas and Laya male
---
Just a few photos of Nala, the lone female in the three pup litter of Titan and Brenna. We picked her up in March. She is the best. High energy, highly intelligent, protective, stubborn to a degree and so beautiful. People regularly stop us to compliment her. We could not be happier.
Thank you again.
Jim Trotter+
---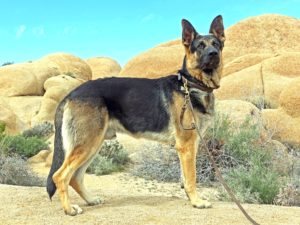 2 year old male from Unkas and Laya
Hi Stephanie,
Here's another picture of Cresee Bear at his two year mark! Nov 7, 118lbs, Unkas and Laya. We'll try to get you a picture each birthday, this dog is pure perfection in every way, Stephanie & I cannot express how much you have changed our lives!
Brent and Stephanie
---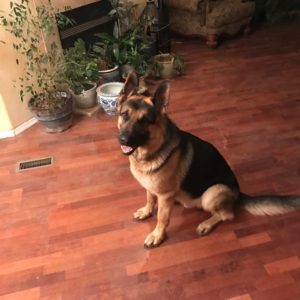 Odin
19 month old male from Unkas and Laya
---
How cute is this guy! Shown at 9 weeks and then at 8 months when he got too big for the cart.
Unkas and Laya male
---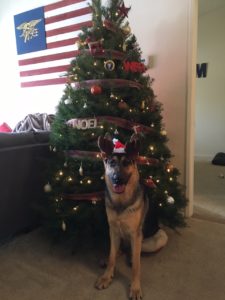 Braven and Sudona male
Search words: German Shepherd puppies for sale San Diego, CA
German Shepherd Breeder San Diego, CA