Von Ward Kennels 2014 Testimonials
You are on the 2014 Von Ward Kennels Testimonials Page. Our pages are organized by the year in which they were received. To navigate to other testimonial pages, click the year links below.
Testimonials from: 2009  |   2010  |   2011  |   2012  |   2013  |   2014  | 2015 | 2016 |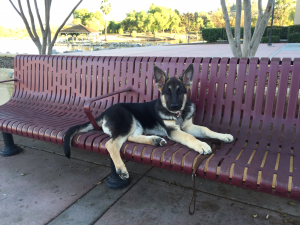 This is a picture of our beautiful Sadie (Unkas and Carmen's puppy) at 15 weeks old. She is doing so good with her training. Sadie is so intelligent and loving. Gets along with people and other dogs extremely well. There is only one problem if you could call it one. Every time we walk her we constantly get stopped by people that admire her, want to pet her and ask where we got her. Regards, the Milhusens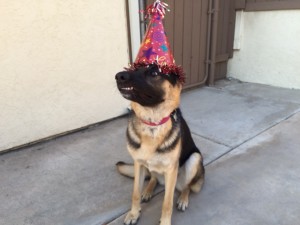 Sadie at one year showing her distaste at having a b-day hat put on!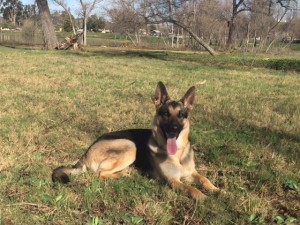 And Sadie again at 18 months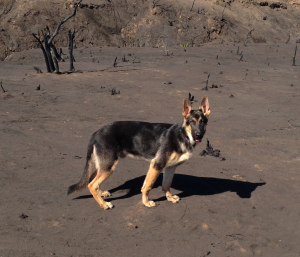 Unkas and Reina 6 month old male. I love it while they are in their teenage long and lanky stage!
Dear Stephanie,
I and my family are thrilled with our new family member Von Ward's Axel Pickering Francis. Here is a picture of our 75 pound (at 6 1/2 months) bundle of energy, intelligence and joy. He is a character! Whip smart, curious, protective but not aggressive, fast (like his mom), And, as the picture shows, stunningly handsome.
We have also appreciated/appreciate your help and guidance as we raise Axel. Your willingness to continually share insights on Axel's diet and vet care are indispensable and are perfect proof that you care about the health and welfare of the Von Ward dogs.
The perfect testament demonstrating the high regard in which we hold Von Ward Kennels-we are getting a sister for Axel from and upcoming litter. Bring on the chaos, fun, fur and laughter.
Steve, Lisa, Nick and Tyler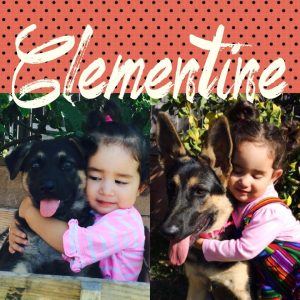 Look at that love! Another Unkas and Nitta female.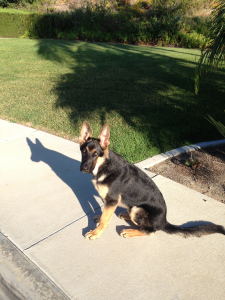 Large male from Unkas and Reina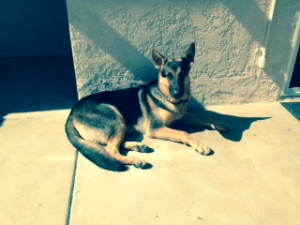 Large male from Unkas and Carmen owned by Randy Tickner
105lbs at 1 year!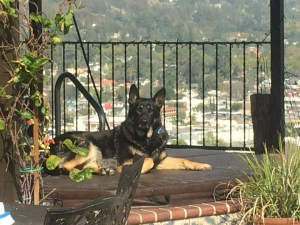 Big male from Braven and Harley
A Unkas and Nitta puppy
Hi Stephanie-
We are thrilled with our Samo! He is 15 weeks old today and dong well in every way. Obedience training is currently in progress and very successful. We are delighted with this GSD!
Sincerely,
John and Lisa Wickham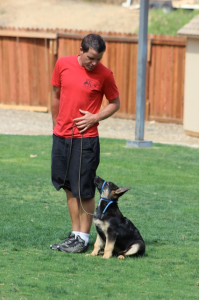 Hi Steph,
We wanted to tell you how much we love our puppy Pickle. She is so cute and such a good girl. We have been taking her to Kindergarten and soon will graduate to puppy level 1 Manners. Today I took her to my preschool and she was very excited to see the children. they loved her too. I hope all is well, we really think she is beautiful.
Sincerely,
Jim, Polly and Pickle                            A Moose and Maggie puppy
Good afternoon Steph,
Just wanted to give you a quick update on our new family member. Cochise is absolutely awesome! He is 95% housebroken. We checked his weight and he is already 25lbs. The raw diet is working good. He is a very good puppy, he has started grasping the commands of come and sit.
Yesterday we were working in the yard and he snuck into an area we had just fertilized. he couldn't help but roll all over in the manure. Thus was the occasion for his first bath which he handled very well. We are so happy with his little spirit. The only downside is those dam puppy teeth, I have one forearm that he just loves to say "Hello" to. Luckily he has lots of toys to occupy this teething stage.
Thank you so much for providing us with such a blessing!
We'll keep you posted as he progresses.
P.S. We have one ear up and can't wait for the other! LOL!
Thank you,
Jim Entwisle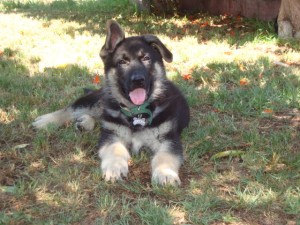 Unkas and Reina male puppy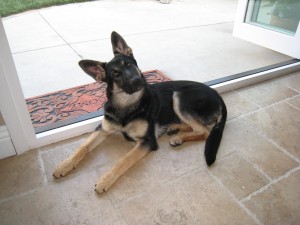 Hi Stephanie
Our female pup from Unkas and Nitta is doing great and has added much fun and love to our lives. She just turned 6 months, so I thought you might like to see some pictures. She has a ton of energy and is an absolute joy to train and exercise. I have never had a dog that loves to play ball and Frisbee more than this one! All the best, Katie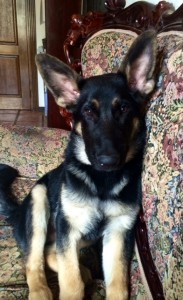 Male puppy named Maximus out of Unkas and Nitta.
Loved by his owner Irene Sanchez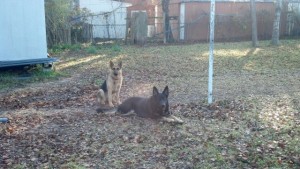 Two Von Wards GSD's.
Male in front by Braven and Harley
Female in back by Unkas and Savannah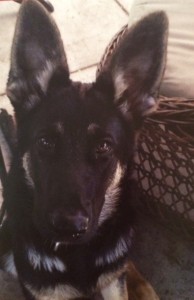 Serenity
Unkas and Nitta female puppy
Hi Stephanie
It has been one fun filled year with Arri (female from Braven and Kelsey). She has changed so much over the year. She loves the beach and loves to try and heard the horses we have. We are so grateful for her!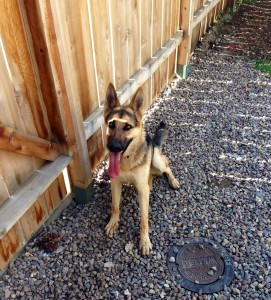 Female from Braven and Kelsey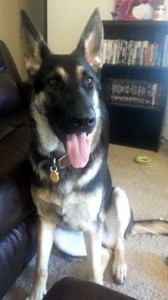 Diesel 1 year male from Unkas and Savannah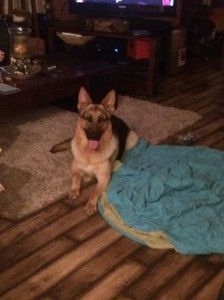 Hi Stephanie,
We wanted to share a picture of Beyla with you.  She is beautiful and whether
it's at the beach (which she loves) or just out on a walk people are always
commenting on her looks. More importantly, people often comment on her "lines"
and hips. We have stayed with the raw diet and know it has made a big
difference. Beyla is happy, energetic, well-behaved, and healthy. She is quick
and eager to learn, and knows all of the basic commands - sit, down, stay, off
and leave it (that's the hard one if leaving it involves any type of ball!). She
loves us as much as we love her. Thank you for taking such care and pride in
your breeding program - it's the foundation that made everything we mentioned
possible for us and Beyla!
Sincerely,
Paul and Brandi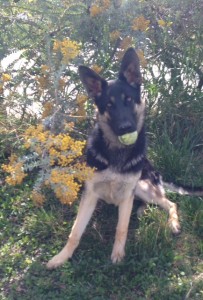 1 year old male from Braven and Kelsey
Hi Stephanie,
Today is Storm's one year birthday.   He's the son of Braven and Kelsey. He is 105 lbs.  He is full of energy.  He's certainly smart but has a lot of attitude i.e. "I know how to sit but I'll sit when I want to".  I'm sure it's all puppy attitude so we're awaiting his 2yr birthday!   He is a very handsome dog although I still wonder what his mostly black brother looks like.  Don't worry we wouldn't trade him for the world.
Yvonne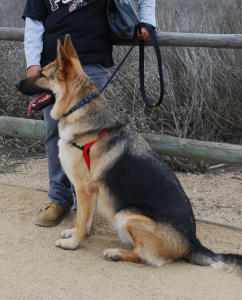 Male puppy from Unkas and Reina
Hi Stephanie,
Things are going great with our puppy. He is growing fast and strong. He is very intelligent. It only takes a couple of tries and he is on it. Can't wait till I take him to the next level. He is the best dog, we are so happy with him. He got his last 5 way shot today so I can finally enjoy more places with him and introduce him to some new four legged friends. I have a question. He is 40lbs. at 15 and a half weeks. Per GSD weight scale, he is a little heavy. I don't want to over feed him I want to make sure that I'm doing the best for him. He has been eating his food whenever he gets hungry plus I have been giving him 1-2 chicken drumsticks a day. We have been walking/jogging for the last week and a half for about 1 to 2 hours a day. He looks fit to me I just want to make sure I am doing it right. If you get a minute please let me know what you think. Thank you for being a great breeder and for giving this puppy an excellent start for his life. I could go on for days about how great this puppy is but that's the next time when he gets more stuff accomplished.
Thank you
KC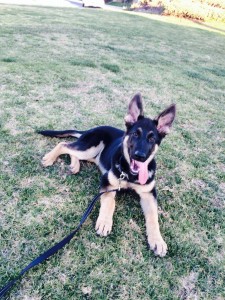 Le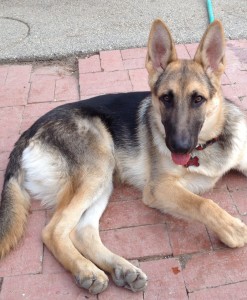 roy, male puppy from Braven and Kelsey at 6 months
Leroy at 8 months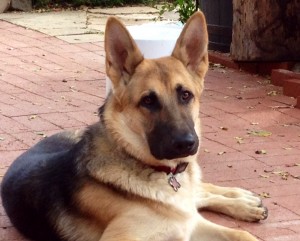 ---
---
Search words: German Shepherd Puppies for sale in San Diego
German Shepherd breeder San Diego

---