Von Ward Kennels 2010 Testimonials
You are on the 2010 Von Ward Kennels Testimonials Page. Our pages are organized by the year in which they were recieved. To navigate to other testimonial pages, click the year links below.
Testimonials from: 2009   |   2010   |   2011  |   2012   |   2013   |   2014  | 2015 | 2016 |
---
Introducing Shiloh, added November 2010……….This puppy is by Braven and out of Savannah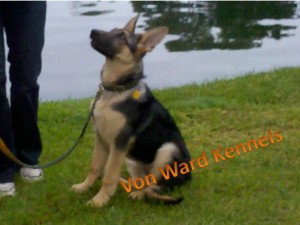 ---
Introducing Remi, added September 2010……….This puppy is by Braven and out of Savannah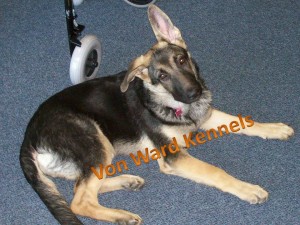 ---
Check out Apollo, newest pack member. Fitting in nicely so far……….This puppy is by Braven and out of Dutchess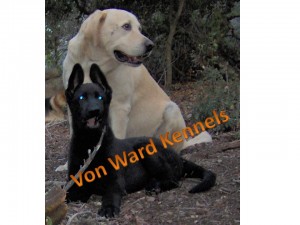 Keith
---
Introducing Ellie, added August 2010……….This puppy is by Braven and out of Savannah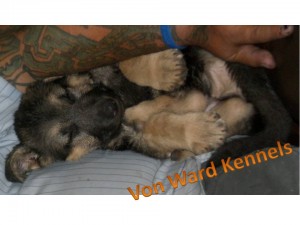 I just wanted you to know that the puppy…Ellie, is doing great! She was an angel on the way home slept the whole way. She is starting to get used to the crate & has been joined at my hip since she got home. It is truly amazing how smart she is. She is already well on her way to being potty trained. She is pretty laid back and even tolerates the Yorkie bossing her around. We'll see how long that lasts. I went to the store and got some chicken legs as you suggested she loved it! I also made up some of that mash and that went over well too.
---
Introducing Jarmin, added 2010……….This puppy is by Braven and out of Dutchess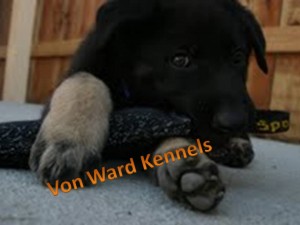 Jarmin is doing amazing!! The first night was pretty crazy (as expected), but since then he has been great. The last 3 nights he has slept the whole night through without getting up. We have a established a spot in the back yard where he pees and he has quickly figured out how to go on command. His attention and focus is amazing! He is constantly watching us to figure out what we want him to do. We are so amazed how quick he is learning. And of course he LOVES the raw food 🙂 We just started working on some obedience training and he is figuring it out rather quickly. Anyways, just wanted to say thanks again! We are so happy we found you and couldn't be happier with Jarmin!
Chad
---
Introducing Koa, added April and July 2010……….This puppy is by Braven and out of an outside female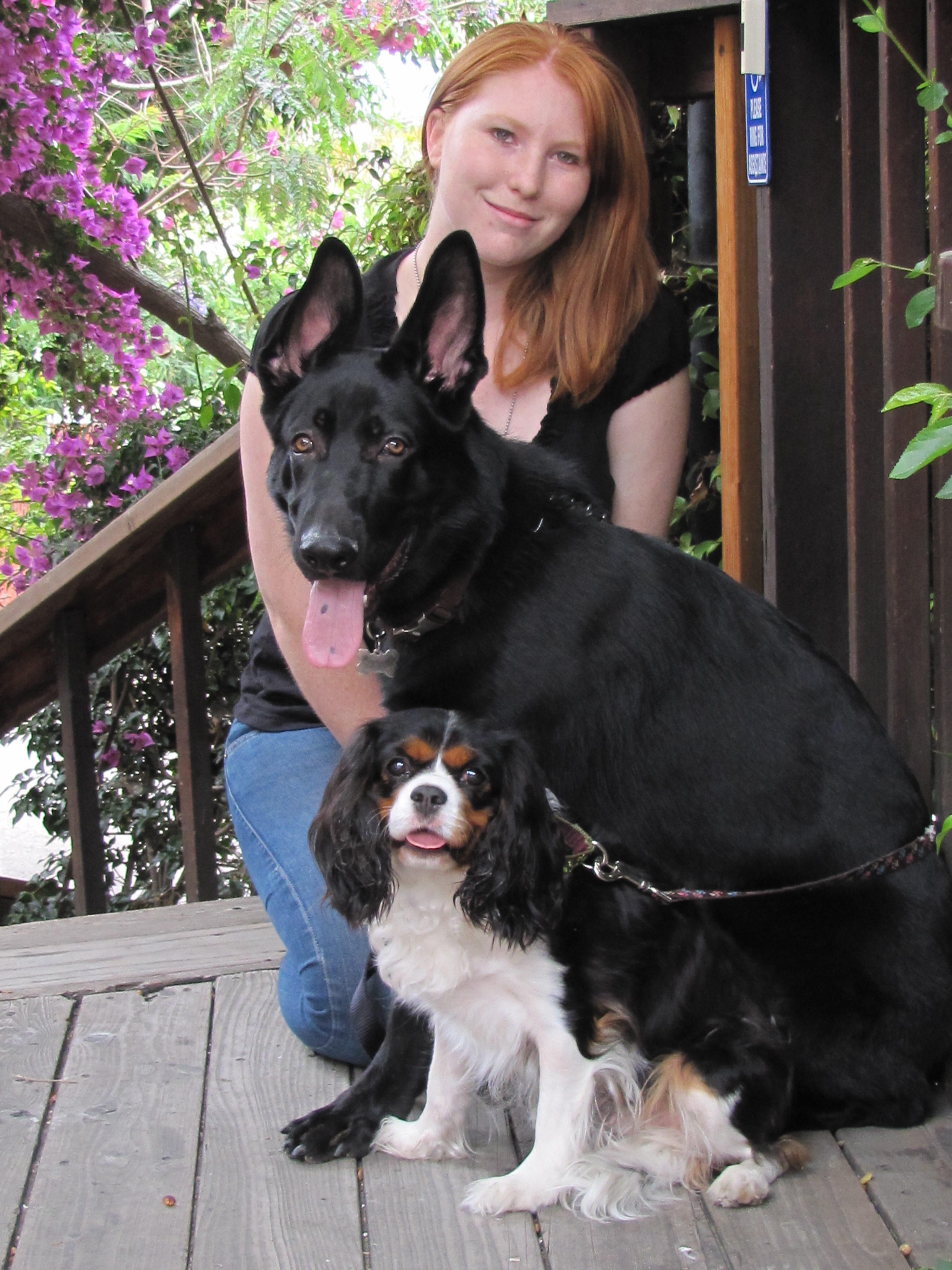 Wanted to send you a few more pictures of Koa. I recently took him to the Vet and the Doc couldn't say enough good things about him! "He's so well socialized, what good muscle mass, beautiful coat, great personality, so calm, etc etc". I always get compliments on our walks, the park and of course the beach. I am always so swollen with pride for my puppy. At 7 months he is now 67lbs and is 25in at the withers. So I just wanted to include some pictures of him now!
All except the third is him at 6 and a half months. The third one is him at 4 and a half months. And I wanted to included a picture of me, Koa and Winifred aka the "midget" as I call her.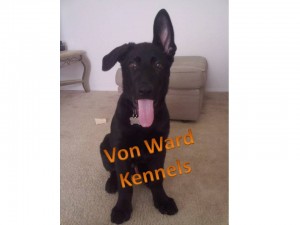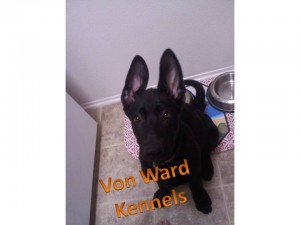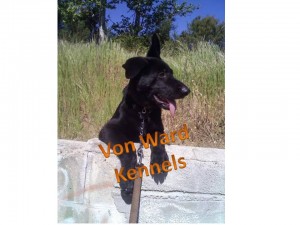 ---
Introducing Manolo, added March and July 2010……….This puppy is by Braven and out of Dutchess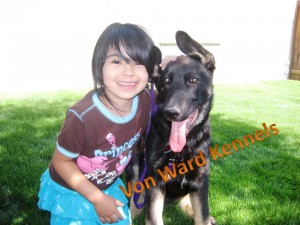 Hope all is well. Manolo is doing great and growing into a beautiful dog. We get compliments everytime we take him out especially when we visit our local dog park. other GSDs at the park just aren't as regal looking. A young stud, bright and protective. If we decided to breed him, how do we find a dam and what are the general fees for a sire. We have referred several people to your web site already. We don't know if we will but we always try and make educated decisions. He is a great family dog and we love him a lot. Thanks again for everything the trip down to the ranch was well worth it. I'll send a picture soon.
Hope everyone's doing great. We recently looked in at your site and saw all the great pictures and wanted to send you a couple of pics of our pup which we named Raven-Manolo (Long story…). He's doing really well and has learned very quickly so far. He was house broken in a matter of days. Every person he meets stops and says the exact same thing, "Look at those PAWS!" He's very handsome and has a calm and confident manner about him when he's not goofing off (often). Braven and Dutches have good genes. A happy Easter to you and your family…
Sincerely,
Jose Casagran
---
Introducing Braun, added June 2010……….This puppy is by Braven and out of an outside female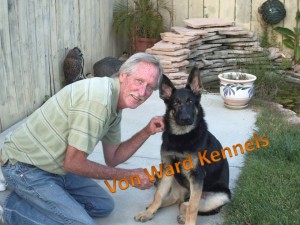 James
---
Introducing JoJo, added June 2010……….This puppy is by Braven and out of an outside female.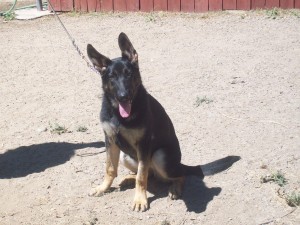 She is 5 months in this picture.
---
Introducing General, added April 2010……….This puppy is by Braven and out of Dutchess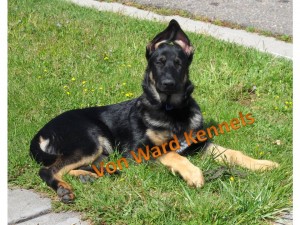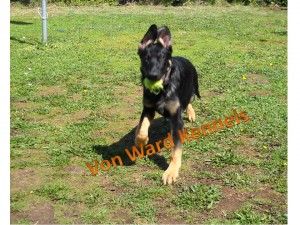 Just wanted to let everyone know that General is doing great! Really smart and already a valued family member who looks after my wife and loves greeting the daughters when they visit. He has grown really fast and just loves playing ball, and did great in puppy class. He is a real ladies man, as everyone also comments on those big feet! Could not be happier on his overall behavior, as he is still just a puppy growing into a giant. Wakes me up when he has to go to the bathroom almost from the start so no complaints about that. Here are a few photos and would recommend anyone toward A Not So La-Z Ranch for their new best friend.
Tom Warren
---
Introducing Chana, added March 2010……….This puppy is by Braven and out of Dutchess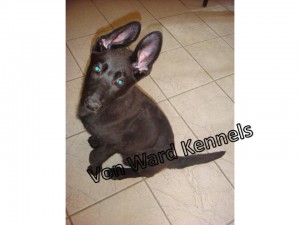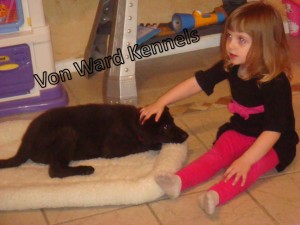 I'd like to thank you again for the gorgeous dog, Chana, we bought from you! She is such a great, loving dog –especially to my 3 year old daughter. She calls Chana her best friend! Whenever we have friends and other children/dogs over, she behaves GREAT and doesn't jump on anyone or act crazy, it blows my mind because I never see any dog as calm and loving as her. She has totally turned into a member of our little family and thank you so much for sharing one of your puppies with us!! I enclosed some pictures incase you wanted to see how she's doing!
Sara Smith, San Diego County
---
Introducing Titan James von Bruffy, added March 2010……….This puppy is by Braven and out of Dutchess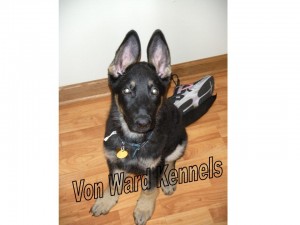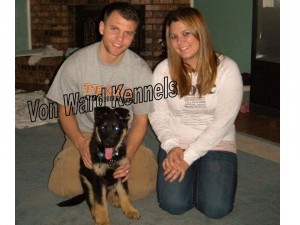 I wanted to update you guys on Titan James von Bruffy. He's doing fabulous out here in South Carolina! We recently got him microchipped, and as of the 15th he will be all done with his shots! YAY!! We are keeping him on the 50/50 diet which he LOVES!! Again I thank you guys so much for allowing us to have such a wonderful dog! I have attached a few pictures of him! He's now 27lbs!
---
Search words: German Shepherd puppies for sale San Diego
German Shepherd breeder San Diego
---