Von Ward Kennels 2011 Testimonials
You are on the 2011 Von Ward Kennels Testimonials Page. Our pages are organized by the year in which they were recieved. To navigate to other testimonial pages, click the year links below.
Testimonials from: 2009   |   2010  |   2011  |   2012   |   2013   |   2014   | 2015 | 2016 |
---
Meet Wanita, GSD Puppy
This puppy is by Braven and out of Harley.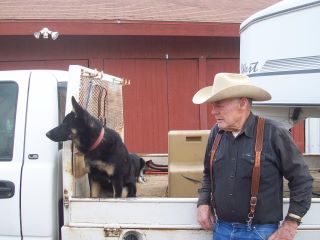 Shown in the picture are personal friends of Von Ward Kennels; Jerry Mc Daniel and Cathy Bledsoe. Female puppy named Wanita is owned by Jerry Mc Daniel. She is 4 months old in this picture. She is already in training and working on a real cattle ranch in Laguna CA.
---
A Testimonial From the Reynolds Regarding German shepherd from Von Ward Kennels, Luna
Hello Stephanie!
Chris and I bought our little Luna from you just a little over two weeks ago and we wanted to give you a report on how she is doing! We simply couldn't be happier. She is the smartest, sweetest and most trainable puppy we could have hoped for. It only took about a week for her to be completely potty trained! We bought a big bottle of the product that you put on indoor accidents to cover up the smell and we have hardly used it at all!
We are so enjoying her personality. She is not afraid of anything which we really appreciate! We have a baby gate at the bottom of the stairs so she can't go up and she has knocked it down, making a really loud sound, but she doesn't think anything of it!
She already knows some of her basic training commands. Food and praise are great motivators for her! We can't wait to watch her grow up.
Thank you so much for breeding such wonderful dogs. We will keep you posted on her development!
Sarah and Chris Reynolds
---
Introducing Caliber, a Von Ward Kennels German Shepherd
Hello Stephanie, This is Greg and Tatiana, we picked up Caliber from you in March. We could not be happier with her- she is such an amazing dog! Recently, we have been considering switching over from her diet of Origen/Acana dog food to the Raw Diet. We know you are quite the expert on this diet we're hoping you could give us some advice. I have been hearing so many different things its hard to know the proper way to do it. We are planning on doing a homemade raw diet since the store brand products seem to be a little out of our budget. I was wondering if there certain recipes we should be doing and what to include besides meat. I have read a lot on the benefits of vegetables and the need for certain supplements to be included in the food as well. Also, I remember you saying you could help us by picking up some bulk food from a butcher. Do you know what the monthly total normally is for raw feeding? Any advise you can give us would be greatly appreciated. Once again thank you so much for Caliber, she really is the perfect dog and the best addition to our family. I also enclosed a picture of Caliber for you so you can see how she is doing. Thank you, Greg & Tatiana
For information about feeding raw, go to our Raw page.
---
Introducing Kaiya!
This dog is by Braven and out of Savannah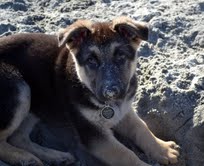 Hi Steph! This is Jerad and Kelly Bixler, we bought our puppy from you back in February from Braven and Savannah. We just wanted to apologize that its been so long since we have let you know how she is doing but wanted you to know that our "Kaiya" is great! We couldn't have asked for a better German Shepherd. We get compliments all the time on how gorgeous and well behaved she is for still being a puppy. We have taken Kaiya on our road trips to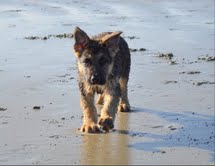 Idaho to visit family and she loves to go hiking. We make it a family affair to go to the Coronado Dog Beach almost every day, it is her absolute favorite place to run around and play fetch. She is a total tennis ball hog. We bought a "chuck-it" from petsmart and use it all the time at the dog beach. It is her favorite toy. She is not afraid of the open ocean, loves to swim and LOVES to dig dig dig in the sand! Many have asked where we got her and we have referred many people to you, of coarse!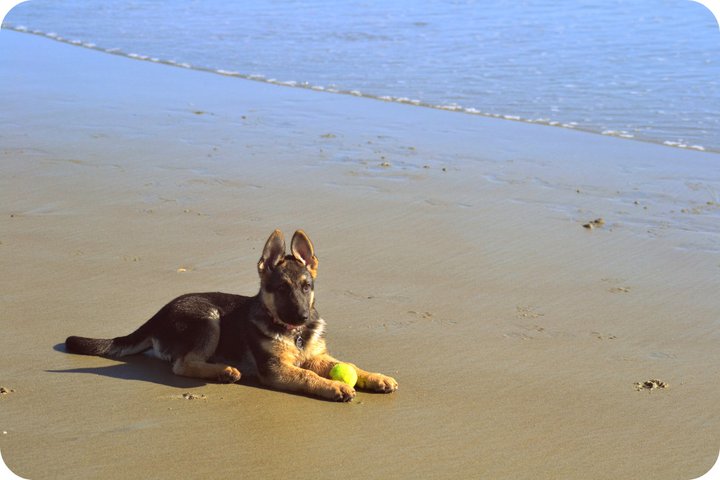 We cant thank you enough for giving us such a wonderful dog! Also, I have attatched MANY pictures throughout the months of Kaiya, and her new playmate that we rescued back in May "Havik"….. they are inseparable! Thanks again and we hope you are doing well……Kelly and Jerad
---
Introducing Captain Karl!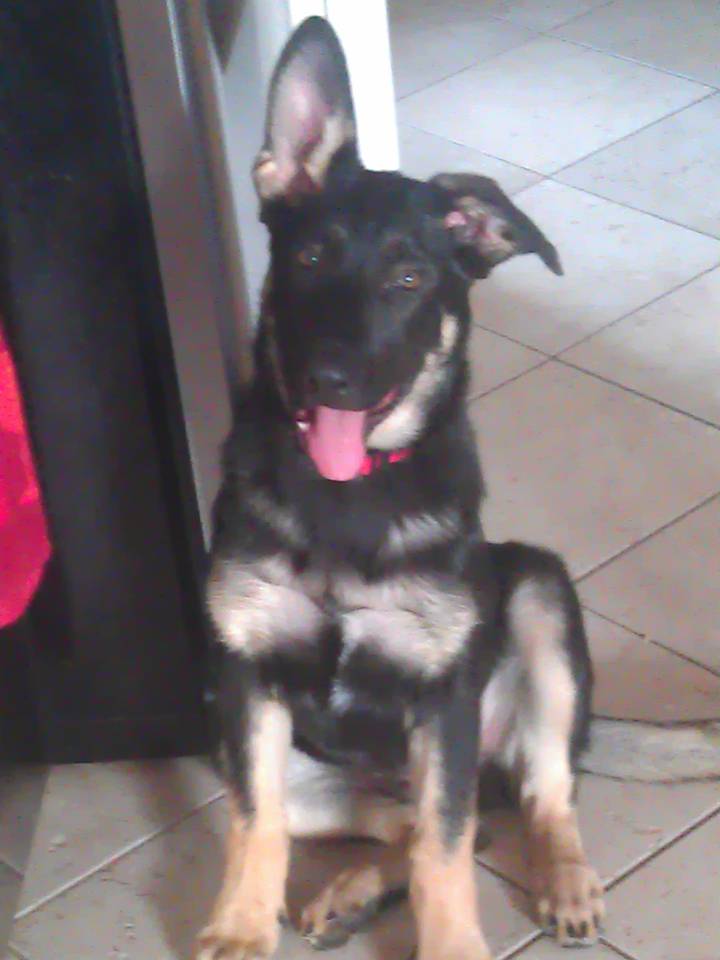 Hello Stephanie,
I wanted to get a picture of Captain to you. He is an absolute doll! We just had him neutered. He weighs about 52 pds. He and our 4 1/2 yr old female GSD get along wonderfully. I am so blessed.
Sharon Penrod
---
Introducing German shepherd puppy Dirty Owned by Cody Raines from Julian, C.A.
This dog is by Braven and out of Karenza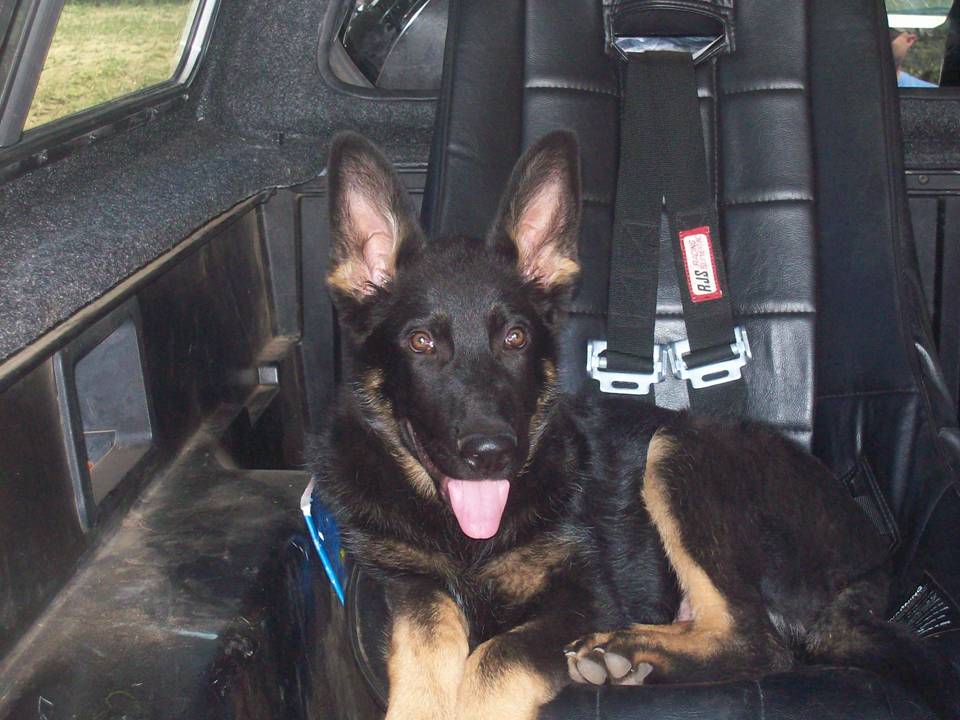 ---
Introducing GSD Zeus!
This GSD Puppy That Was For Sale is by Braven and out of Dutchess
Hello Stephanie, First off I would like to apologize for freaking out a couple of months ago about his ears and his paperwork. Everything worked out just fine. Zeus is a phenomenal dog. He is fully trained and is great with all people and all dogs! We will continue to further his training and will update you on his progress. The day we brought him home was his first day with the trainer. Some might think he was too young, but the fact that he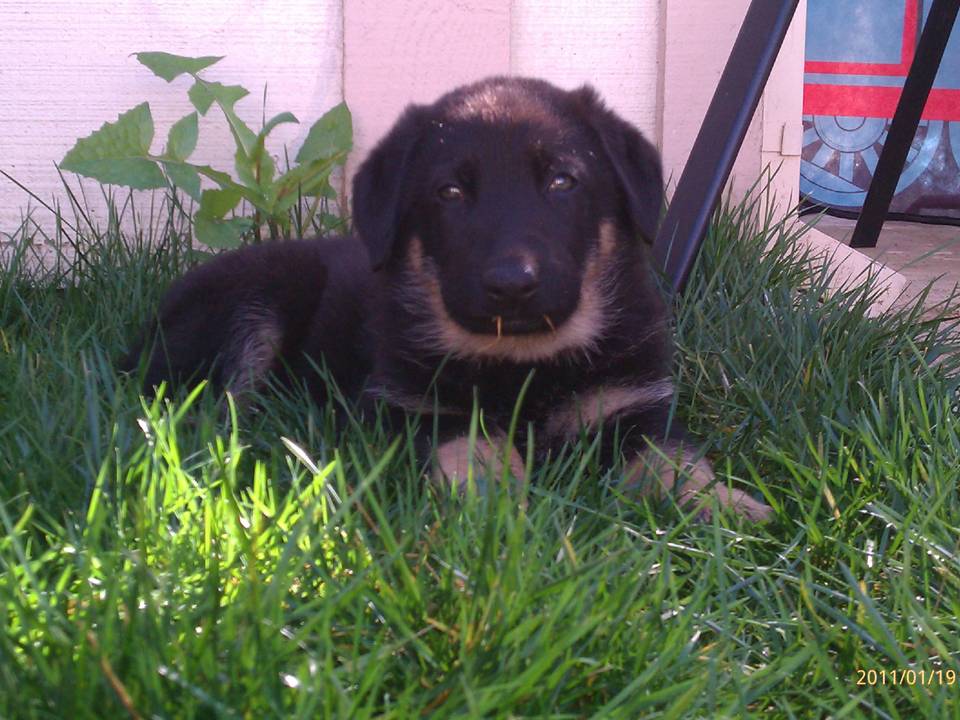 comes from such awesome lineage made it easy for the trainer to work with. This dog was smart from the get go. He picks up commands very easily. He loves to play fetch. When he brings back his toy, he will drop it at my feet and sit right down at my feet. He will not just take off to get his toy unless he gets the command. We get compliments everywhere we go. We recently went to a Shitzund class.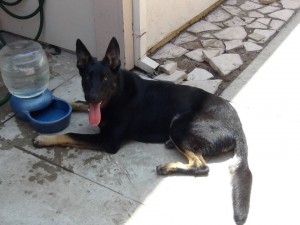 They told me that he is too young, but that mentally he is ready. To be quite honest, I felt that he was much more advanced than some of the adults that were in the class. We are going to get him trained for Executive Home Protection. He had an assessement done on him and passed with flying colors! We are very happy with ZEUS. I have attached a couple of pics.
Thank you very much
Simon Jara
---
Testimonial: Von Ward's Adalheide Ursel, German Shepherd Puppy that Was for Sale
By Braven and out of Karenza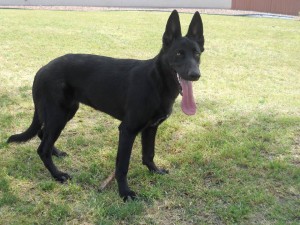 Our puppy's name is Von Ward's Adalheide Ursel, it means Noble She-Bear in German, and she lives up to every bit of it. We could not have hoped for a better puppy and companion. Heidi is exactly what we had hoped for in a GSD (German Shepherd Dog). She has always been, even from the start at 8 weeks old, very calm and obedient. She is the easiest dog I have ever trained. We joke all the time that she was born trained! I work outside on a parachute drop zone and Heidi goes to work with me every day. The guys and I call her our "Drop Zone Dog". She interacts very well with all kinds of people in large groups or small and she is always extremely well behaved. She is very sweet and loving and excellent with our 15 month old daughter. She is only mildly aggressive with strangers but calms down immediatley when told to do so. I get compliments on her every day! Heidi truly is a gorgeous and noble creature. We can't thank you enough for providing us with Heidi. She is a priceless addition to our family we treasure her with all our heart.
Sincerely,
Andrew and Shannon Hopkins
---
This puppy is by Gauguin and out of Kelsey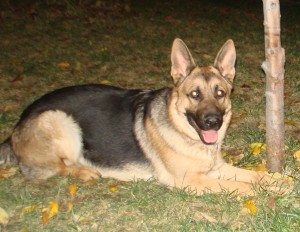 ---
Update on Jarmin, a German Shepherd Puppy That Was For Sale Added March 2011
This puppy is by Braven and out of Dutchess
---
Just thought I'd send you an updated picture of our Jarmin. We love him so much! He is so good with the kids and is so smart! We took him to Idlywild to play in the snow on Tuesday and he loved it! He especially loved chasing the sled down the hill while we were sledding.He is still very much a puppy but learns new commands very fast and remembers old commands that we don't use much. Enjoy!
Aileen and Chad Dollick
---
Search words: German Shepherd puppies for sale San Diego
German Shepherd breeder San Diego
---